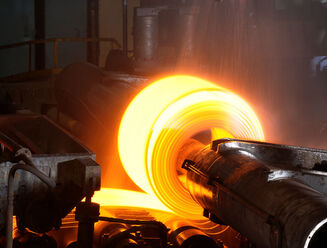 You are making the right choice with Schubert & Salzer Control Systems valves. We have been a reliable partner for various companies operating in the metallurgy sector for many years. The range of applications is varied. For instance, our sliding gate valves regulate ultra-precise gases in melting oven burner applications or in alloying and galvanisation processes as well as coolants in continuous casting plants. For example, ball sector valves are used with abrasive media such as coal dust or ore slag as well as in galvanisation plants or for warm or cold-rolling processes.
Processing metal is no easy ride: Turning, bending, pickling, heating and cooling of materials, heat-treatment of steels, treatment of surfaces whilst accurately maintaining the surface quality are just some of the challenges that Schubert & Salzer valves successfully tackle every single day in many metal-processing companies. Excellent functionality must be ensured in this rough environment, even when subject to high levels of heat. However, it is not only heat that is a decisive factor; aggressive media is often used in the field of metal processing that the utilised valve needs to withstand. Therefore, our seat valve is particularly proven in this segment. As a "valve technology all-rounder", it easily copes with millions of cycles, high temperatures and even aggressive media.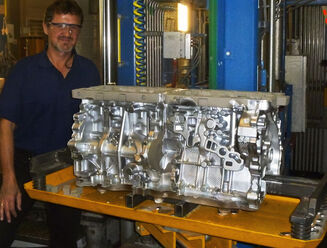 In its angle seat motor valve guise, Schubert & Salzer seat valves dose inert gas atmosphere in inert ovens or coolant emulsions in forming lines for instance. In core shooters and automatic moulding plants, our seat valves with extremely high cycles times are able to demonstrate what they are capable of in foundries. They are also used to regulate the air flow in pneumatic conveying systems or as oxygen pulse valves in cupola ovens.
When things get even more robust, when dosing barium sulphate on copper casting wheels or when dosing lime milk in picking or water treatment facilities for instance, our pinch valves show what they are capable of with their long service times and low operating costs.
Irrespective of the application or task: We are the competent partner to have by your side. You don't just receive an off-the-peg product; we offer you a solution that is tailor-made to your individual requirements.